Online Login / Registration
Testimonials
Questions?
Check our FAQ section for answers to the most frequently asked questions. Click here
Learning Program Webinars
Already taking part in an IACCM Learning Program? View upcoming and recorded webinars from your program here
IACCM Certification
Advance your knowledge, career and standing with the world's most widely recognized professional certification in contract and commercial management.
Why choose IACCM Certification?
IACCM Certification demonstrates your achievement of industry-leading standards of professional knowledge, skills and best practice.
IACCM programs are:
Convenient: core materials are accessed on-line
Low cost: no travel, no expensive examination fees
High value: up-to-date materials reflecting best practice concepts
Global: the only certification program designed for a worldwide audience
Interactive mentoring: students benefit from access to top academics and expert practitioners via webcast and message boards
Any member that can demonstrate the necessary skills and training can apply for IACCM Certification at the following levels:
Certified Contract Management Levels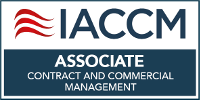 Associate (CCMA) is open to anyone working in a contracts / commercial management role who can demonstrate the appropriate skills and knowledge.
Practitioner (CCMP) is for those who can demonstrate the required skills and knowledge, and have a minimum of two years experience in the field.
Expert (CCME) requires a minimum of seven years experience in a management or senior specialist role, and a more extensive assessment and peer review.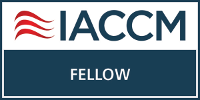 Fellow (FCCM) represents outstanding experience and career performance, and a record of contribution to the profession and its development. Peer interview and confirmation by the IACCM Board.
Supplier Relationship Management (SRM) Certification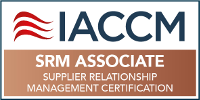 SRM Associate Certification is applicable for those who act as the routine contact point between their company and supplier. Their role includes the monitoring, collecting and reporting on supplier performance data. They are likely to investigate relationship problems looking to either resolve those or escalate as necessary and then support the implementation of supplier service improvement activities, and have an understanding of the commercial IT environment within which the company operates and knowledge of their company's sourcing strategy. They are likely to be new in role and may have come from a procurement or contracts background.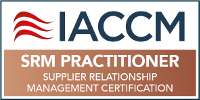 SRM Practitioner Certification is applicable for those people who have managed suppliers from the perspective of developing strategic relationships and been part of the operational delivery of SRM within their organisation either in a formal SRM role, or a role which has substantial interaction and responsibility for a select group of strategic suppliers. They have good knowledge of the commercial environment of their organisation, the organisation's procurement strategy and how it uses and manages external partners. They support the development of supplier contracts to ensure KPIs and other formal targets can be met and support the selection methodology for suppliers for tenders. The are likely to have been in such a role for two or more years.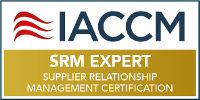 SRM Expert Certification is applicable for those people who direct and inform policies and procedures that deliver positive relationships with the strategic supply chain and gain support from senior levels of management within both organisations. They have excellent commercial skills developed through the management of the delivery of the supply chain and they engage comfortably with related disciplines (eg. contract managers, legal, procurement) as necessary. They provide direction and mentoring for individuals involved in the day to day operational delivery of the relationship between their company and the supplier. They lead review meetings with strategic suppliers and contribute to, or are responsible for, the negotiation of major contracts. They are likely to have performed at the practitioner level and been in SRM related roles for 5 or more years.

To view pricing and register online, please click here
About IACCM Certification
To apply for IACCM Certification you must be an IACCM member. You can register for membership as part of your Certification application. To learn more about membership options now, click here.
The Certification program is based on demonstrated performance as well as work experience and academic qualifications. This element requires both self-assessment against key skill and knowledge areas, and validation by a reviewer, usually the line manager, or a member of IACCM's certification review board where line manager review is not possible. You may choose to either apply for certification AND online learning modules, by clicking on 'online learning modules' and 'exam and certification' in the registration wizard, OR choose the 'exam and certification option' only. It is not mandatory to do the learning modules to achieve certification, though the certification exam is based on the body of knowledge contained in the modules. All of this is managed through IACCM's acclaimed web-based learning portal.
The output you receive includes a comprehensive personal report on the skill and knowledge strengths and gaps that you have relative to your peer group. This reporting capability is unique to IACCM and involves 'benchmarking' you against other professionals at the same certification level. As a result, the personalized advice on your strengths and areas for improvement gives you a solid foundation for a personal development plan.
Which Certification level should I choose?
Certification will be awarded at the appropriate level, according to how much experience you have in the field and the grade that you achieve on the certification exam. If you fall short of the level for which you are applying, you will be certified at a lower level. Conversely if we find that you have applied for too low a level, we will contact you about upgrading.
Upgrading your accreditation
Members can apply for re-certification (to move to the next level) not less than one year after their initial certification. All members must renew their certification every two years, demonstrating that they continue to perform tasks relevant to the profession and their status within it.
Certification Renewal
Your IACCM certification will be valid for two years before it needs to be renewed. There is a 40 USD renewal fee to cover processing costs. Unlike other organizations, we do not charge a large fee to maintain your certification, and you can quickly and easily renew as part of your membership renewal. We do however expect that you have continued your personal and professional development.
Overview of the typical Accreditation Process
Application for certification submitted to IACCM (can be done in conjunction with joining)
Individual selects curriculum - Sales or Procurement
Individual selects reviewer - someone more senior and familiar with your work
IACCM provides link and log in details to development website
Skills Assessment is completed by applicant
Qualification, Experience, Professional Contribution completed
Reviewer validation and submittal
Assessment report sent to applicant
Applicant chooses to study for the exam or proceed immediately with exam
Contract Management Exam
Case Study (for Certified Member [MCCM Cert] Certification)
IACCM review of results
Certification Board Review and Approval
Notification of certification status

To view pricing and register online, please click here
Certification Review Board Members