The Licence To Act Differently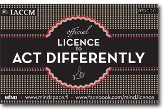 Working in conjunction with the Aalto University Center for Entrepreneurship, IACCM has launched its official version of the 'Licence to Act Differently'.
Our purpose is to encourage and promote innovation and change in contract and commercial practices and methods. Individual members of the Association are invited to become 'Licenced Agents' and be issued with an official, numbered card. Registration is free of charge. Sign up now

"The critical ingredient is getting out of your chair and doing something. It's as simple as that.
A lot of people have ideas, but there are few who decide to do something about them now. Not tomorrow. Not next week. But today.
The true change-agent is a doer, not a dreamer."
Background
In IACCM member surveys, the biggest single concern expressed by members is 'the lack of leadership'. The sense that we are followers of change, rather than instigators of change, has been evident during our recent work on 'The Future of Contracting'. This is in contrast to the values sought by executive and business unit management, who increasingly view contracting and commercial capability as 'key sources of competitive advantage'.
To achieve heightened status and to deliver increased value, IACCM wishes to promote a culture of leadership and change among its members. We want to provide inspiration and to acknowledge achievement. This program is designed to achieve those goals.
The Program
The program is designed to encourage a spirit of leadership at all levels. Therefore there are no specific pre-requisites to enrolment. 'Licenced Agents' are required to sign a commitment that they will identify and promote change and innovation within their own working practices and more generally within their organization. In accordance with the agreement that they sign, they will be required to submit a report on 'how they acted differently' and what impacts it had within the business. Such reports must be submitted at least once a year or their Agent status is revoked.
Submissions may be made by clicking here or submitted to IACCM staff for review.
IACCM Innovation Awards
Each year, IACCM recognizes outstanding leadership and innovation in contract management. Winners will be featured in webinars / interviews, as well as in the IACCM newsletter and at IACCM conferences.
Click here to see more on the awards: www.iaccm.com/innovationawards
Corporate Members
Although the program is open to individual members, we appreciate (and hope) that some of our leading Corporate Members may wish to institute the program within their internal teams. In that case, we will establish an appropriate form of control, which might include the creation of an internal forum and selection by the corporation of certain initiatives for entry to the Awards program.