The Licence To Act Differently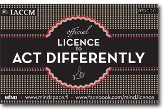 Working in conjunction with the Aalto University Center for Entrepreneurship, IACCM has launched its official version of the 'Licence to Act Differently'.
Our purpose is to encourage and promote innovation and change in contract and commercial practices and methods. Individual members of the Association are invited to become 'Licenced Agents' and be issued with an official, numbered card. Registration is free of charge. Sign up now

"The critical ingredient is getting out of your chair and doing something. It's as simple as that.
A lot of people have ideas, but there are few who decide to do something about them now. Not tomorrow. Not next week. But today.
The true change-agent is a doer, not a dreamer."
Sign Up
Already a member?
Please sign in.
Register now
If you are not yet an IACCM member, please register below.
Note: fields marked * are required