The Licence To Act Differently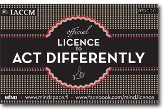 Working in conjunction with the Aalto University Center for Entrepreneurship, IACCM has launched its official version of the 'Licence to Act Differently'.
Our purpose is to encourage and promote innovation and change in contract and commercial practices and methods. Individual members of the Association are invited to become 'Licenced Agents' and be issued with an official, numbered card. Registration is free of charge. Sign up now

"The critical ingredient is getting out of your chair and doing something. It's as simple as that.
A lot of people have ideas, but there are few who decide to do something about them now. Not tomorrow. Not next week. But today.
The true change-agent is a doer, not a dreamer."
Submit a Report
'Licenced Agents' are required to submit a report on 'how they acted differently' and what impacts it had within the business. Such reports must be submitted at least once a year in order to maintain your licence.
Reports can be submitted either via this page or by e-mail to info@iaccm.com. The format of the report is free (text, video, comics, a song etc) - whatever helps you to better make your point.
You understand that your Licence will be withdrawn if you do not report at least once a year. But when you report, there is the chance of gaining a recognition award for your innovation or change initiative and the most productive agents will be upgraded to Premium Agents!

Please sign in.
Not yet a member? Click here to sign up now.