IACCM has accredited a select few contract & commercial management training organizations to deliver IACCM certification programs in an in-person classroom setting. Programs typically run 3-5 days and certification is awarded upon successful completion of all program requirements, including a final exam. Please check our classroom training calendar for upcoming programs, or link with a preferred accredited training partner directly via the list below.
For corporates, government agencies, or individuals interested in a blended learning approach or additional classroom training opportunities with IACCM, please contact us to discuss your requirement or email training@iaccm.com.
Please note that all individuals that obtain an IACCM certification through an accredited training partner must maintain their IACCM membership and continuing professional development points for valid certification.
Accredited Partners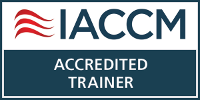 3P Brava (USA) customizes training content from leading professional development organizations to meet the needs of your workforce and industry. Their goal is to deliver practical, highly engaging learning experiences that participants can immediately take to their work life for more rapid business impact. The founder is a multilingual senior operations leader with comprehensive industry and international work experience, who served as an internal consultant to a Fortune 500 company for 15 years. The areas of specialization include supply chain, contract manufacturing and operational excellence.
Learn more at:
www.3pbrava.com
The Commercial Coach Ltd (UK & Global) was founded by Libby Brooks who has been supporting companies to 'Grow People, Grow Business' for over 15 years via senior specialist commercial/contracting/board level positions over a career that includes both Buy & Sell side and Pre & Post contract within various high value technology industries including Space, Aerospace, New Products, Security, Mobile, Telecoms and ICT to both Public and Private sectors. Libby draws on her significant business expertise gained via an MBA (Warwick 2007), IACCM EXPERT (CCM and SRM) and as a FELLOW of the Chartered Management Institute (FCMI). A Certified Graduate of CoachU's three-year Advanced Corporate Coaching Programme, Libby now uses a pioneering 'inside out' approach to human potential. UK-based, Libby delivers the IACCM Fundamentals/Practitioner training as both Classroom, Blended or Virtual Classroom options and also designs, develops and delivers all aspects of bespoke commercial/contracting/negotiation training.
Contact libby@thecommercialcoach.com for more information
COnsultandomi Ltd. (UK/Europe/Middle East) Experience of over 10 years working across many industries including telecommunications, systems integrators, printing and office equipment, tax authorities, local, regional and national government, international charities, construction, engineering and rail, environment agencies, oil and gas corporations, research organisations.
Fully interactive courses deliver not only professional content but practical lessons learned to implement in the working environment. Experience in delivering highly successful courses UK, Europe, West Asia and Middle East.
Learn more at:
www.consultandomi.com
Devant (UK) specialises in commercial contract training, review and negotiation, offering a range of training programs. All of Devant's workshops are delivered by experienced contract consultants who structure deals, draft, review and negotiate contracts daily.
Learn more at:
www.devant.co.uk
DPSS Consultants (Great Britain/EMEA) have been offering contracting, procurement, supply chain consultancy, training and recruitment services for the past 30 years. They provide a totally integrated service from competency development and training needs analysis to training, development, recruitment and selection. Their delivery team includes Dr Ray Carter the author of Practical Contract Management and creator of the 10 c model. DPSS has a global reach and have delivered contract management courses in the UK, USA, Africa, South America, Russia, Middle and Fast East. They offer both the Fundamentals (Associate) and Practitioner level courses onsite and open enrolment.
Learn more at:
www.dpss.co.uk
E-quality (Italy) believes that knowledge should be widely available, especially amongst the young. For that reason we are committed to keeping prices among the lowest in the market, and we constantly introduce new methods and more efficient teaching. The training and consultancy E-quality Italy supports companies applying the best international practices with a practical and engaging approach.
Learn more at:
www.imlearning.it
With strategic distribution of our offices in leading locations, such as Skopje, Accra, Dubai, Jonkoping, Riyadh and Almaty, Leoron PDI supports worldwide clients in increasing their competitiveness by improving the competencies of their employees. We believe that in the age of absolute competitiveness, strategic improvement and service delivery is reliable on Supply Chain and Procurement expertise at a very large scale. Hence, through top quality training and development solutions delivered by unrivaled global experts and facilitated by the best training managers in the industry, Leoron's aim is to help corporate clients re-organize their procurement strategy and equip their workforce with an extra set of skills.
Learn more at:
www.leoron.com/
Nordic School of Contract and Commercial Management provides courses that will strengthen your skills in contract management via the internationally recognized IACCM route. In addition to that, our approach gives you a unique insight into all aspects of the contracting process and equips you to handle all phases of the contract lifecycle -- and the laws behind it.
Learn more at:
www.nsccm.dk/
QA (Great Britain/worldwide) works with customers to transform business performance by developing the knowledge, skills and attitude of their people. From individual places on the most comprehensive range of professional development, project management and technical skills courses, to bespoke learning programmes and services and an industry-leading Managed Learning Service, QA is dedicated to meeting the extensive learning and development needs of organisations throughout the UK and worldwide.
Learn more at:
www.qa.com/
The Procurement Academy (UK) is not just a training provider; we focus on the complete spectrum of talent management to help you develop, engage and retain the talent in your Procurement and Supply Chain team. What we are really about is working with your organisation to deliver comprehensive and tried and tested solutions to help you in the management of the talent within your organisation.
Learn more at:
www.theprocurementacademy.com/
Soul Work Limited (UK & Europe) focuses on training, coaching and consultancy, in two main areas: 1. Commercial Contract Management consultancy and training, based on extensive experience in that field, at the most senior levels and 2. Thrive training (helping people to thrive at work and in life, raising the level of engagement of employees, helping leaders to get the best from their teams). We have more than 30 years experience in commercial management, and the services offered include training design, development and delivery, both in the classroom and in an online e-learning environment, delivering webinars and teleclasses, conference keynote speaking and facilitation.
Learn more at:
www.soulworklimited.co.uk/
As a Platform for Continual Personal Development, Suerte Academy (Netherlands) offers a broad portfolio of development options. Improvement of Sustainable Co-operation in Service Chains and Networks is thereby our goal.
As a professional, it is no longer sufficient to only possess professional knowledge: a large number of personal competencies and social skills are expected of you.
Suerte Academy specialises in lifelong learning. Learning is a combination of performance, personal development…and fun.
Learn more at:
www.suerte-academy.com
Check our FAQ section for answers to the most frequently asked questions. Click here